Flex: Sina Robotic Telesurgery System
This system is a robotic system for performing complex surgeries in the abdominal cavity, pelvis and chest with Minimaly Invasive Methods (MIS) and through three or four 5 mm incisions. In this system, the surgeon controls the surgery robots on the patient's bedside, even in remote places and through the Internet, by being in the surgical console. This system has the ability to eliminate tremors of the surgeon's hand, scale the movements and reduce movement errors, create an ergonomic sitting and standing position to perform surgery and reduce the surgeon's fatigue and thus increase the quality and accuracy of surgery. 
Advantages: 
·         More accurate, more flexible but economical 
Using the Sina system, surgeon may use single or multiple use straight instruments for simple surgeries and also single-use flexible instruments for more complex surgeries. This strategy will reduce the cost of instruments per surgery.
·         Non-interruptive reorienting of surgical bed
Due to availability of surgical bed reorientation and patient docking during surgery, without any interrupt; surgeons may perform all kind of General surgeries using Sina robotic surgery system. This system may also be used for Cardiac surgery, Colorectal surgery, Gynecologic surgery, Head & Neck surgery, Thoracic surgery and Urologic surgery.  
·         Reconfigurable surgery site 
The Sina flex slave robotic surgery subsystem, has a modular design for placement of surgical robots, so surgeons may design their surgery architecture themselves by reconfigure the placement of surgery robots at one side or both side of surgery bed. 
·         Customized ergonomic posture
The Sina flex system has a reconfigurable surgery console. Using this system the surgeon may sit behind the surgery console and adjust it for the best ergonomic posture of him/herself. Also for long lasting surgeries which surgeon may prefer to stand during surgery and reduced his fatigue, the console may be pre adjusted and reconfigured to standing posture with special ergonomic parameters of specific surgeon.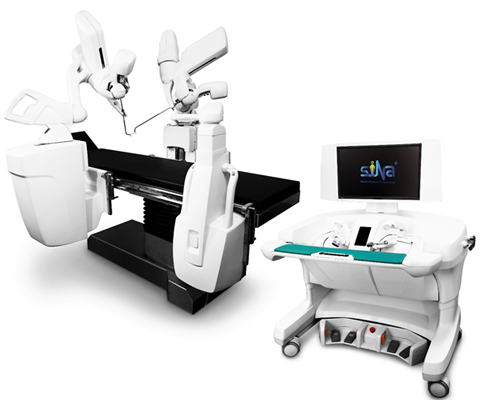 Course name: Skills courses for robotic abdominal, pelvic and thoracic surgeries (in vitro, preclinical and clinical stages – at basic and specialized levels)